Click on Map Icons to View More Info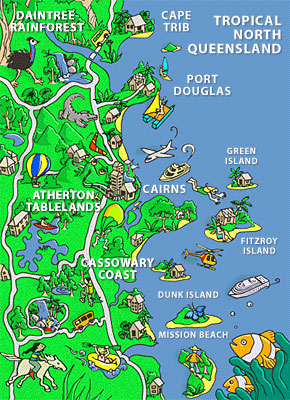 Top 10 Articles
A Whale of an Encounter
About GBRMPA
Advanced Diving
Bedarra Island
Butterfly Fish
Can I fly after diving?
Can I wear glasses?
Certified Diving
Clown Fish
Cod Hole
Great Barrier Reef Region Guide
Click Images to view gallery for this subject
What is EMC?
Updated: 21-Mar-2007
The Environmental Management Charge (EMC) is a charge associated with most commercial activities operated under a Great Barrier Reef Marine Park.
Due to the rapid expansion of tourism and other commercial operations within the last decade, urgency for research and education programs now exists. Information is needed to guarantee the survival and conservation of the world's largest Marine Park and World Heritage Area. Thus an Environmental Management Charge (EMC) has been introduced by the Government to visitors of the Great Barrier Reef and industries operating within the World Heritage Area.
The funds collected are vital to protecting and managing the Marine Park.
Who must pay?
Visitors to the Marine Park participating in a tourist activity must pay the charge to the reef operator. Some charges are included in the trip cost whereas others must be paid direct on the day.
The EMC funds you contribute are spent on all aspects of Marine Park management, from education and research to ranger patrols and policy development. Every aspect of Marine Park management that you see out on the Reef has been contributed to by the EMC payments.

The amount of EMC charged depends on the amount of time spent at the reef. From the 1st April '07 the charge will be $5.00 for a day trip or a maximum of $13.50 for extended trips.
Edit This Page
Edit Page Content
Post Comment