Click on Map Icons to View More Info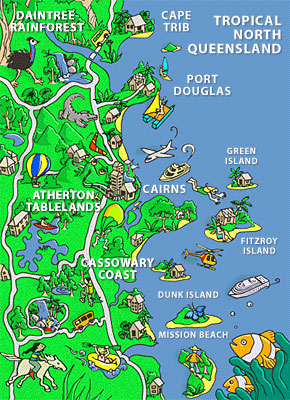 Top 10 Articles
A Whale of an Encounter
About GBRMPA
Advanced Diving
Bedarra Island
Butterfly Fish
Can I fly after diving?
Can I wear glasses?
Certified Diving
Clown Fish
Cod Hole
Great Barrier Reef Region Guide
Click Images to view gallery for this subject
Snorkelling
Updated: 15-Feb-2007

Snorkelling the Great Barrier Reef is one of the best and most popular ways to truly appreciate the beauty this natural wonder.
As an activity, snorkelling is within the reach of practically everyone. It does not ask for expensive or complicated equipment, and the basics are easy to learn. It's also ideal for people of practically all age groups and is perfect as a family activity or with friends.
If you haven't snorkelled before, all marine tour operators will offer complete instruction before you enter the water and friendly crew will be on hand to assist you.

The only requirements are the ability to swim and fairly good fitness as snorkelling is a strenuous activity. If you need to rest while snorkelling some reef locations offer a snorkel rest station or a guide line to hold onto.

Snorkel sites are supervised and swimming aids and flotation devices are available allowing all to experience the magic of the Great Barrier Reef.
Most marine activity takes place in the top 4 metres of the ocean, so you will be able to view just as much marine life from above as the divers do below; just looking from a different perspective.
To learn more about the marine life around you, why not consider taking a guided snorkelling tour? Many reef operators offer Free Snorkel Tours guided by a Marine Biologist. It's a safe way to expand your boundaries and discover more about the wonders of the Queensland coast.
Remember to take care with the sun though; snorkelling can occupy you for hours. It is recommended to hire a stinger suit or wetsuit from your reef operator. It not only protects you from marine stingers, it also protects you from the strong Queensland sun.

Do not be deceived by overcast days, you can still get sunburnt!
Edit This Page
Edit Page Content
Post Comment