Home >
Underwater Observatory
Click on Map Icons to View More Info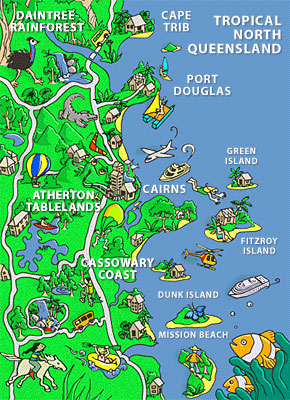 Top 10 Articles
A Whale of an Encounter
About GBRMPA
Advanced Diving
Bedarra Island
Butterfly Fish
Can I fly after diving?
Can I wear glasses?
Certified Diving
Clown Fish
Cod Hole
Great Barrier Reef Region Guide
Click Images to view gallery for this subject
Underwater Observatory
Updated: 11-Feb-2007

See the wonders of the Great Barrier Reef without getting your feet wet!
Fish and Coral Viewing Observatories can be found on all pontoon based outer reef trips. Located underwater they are a great, interactive way of learning about the Reef and its inhabitants in all weather!
From here, you can also view "first time" divers taking part in introductory dives or the Scuba Doo underwater scooters that feature onboard the Great Adventures pontoon.
Before leaving the reef each day Sunlover Cruises conducts a fish feed from the back of the pontoon. The result is an amazing spectacle that you can view either from the deck or the underwater observatory. This feed is done in accordance with strict Marine Park guidelines.
Edit This Page
Edit Page Content
Post Comment