Click on Map Icons to View More Info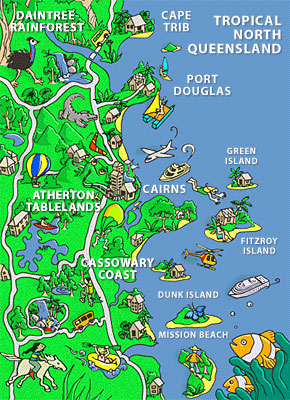 Top 10 Articles
A Whale of an Encounter
About GBRMPA
Advanced Diving
Bedarra Island
Butterfly Fish
Can I fly after diving?
Can I wear glasses?
Certified Diving
Clown Fish
Cod Hole
Great Barrier Reef Region Guide
Click Images to view gallery for this subject

SEA TURTLE

GRACEFUL CREATURES

PHOTOS COURTESY OF BRETT GOODBAN

SIX OF SEVEN SPECIES ARE FOUND ON THE GREAT BARRIER REEF
Turtles
Updated: 16-Feb-2007

Six of the seven species of sea turtles in the world are found on the Reef: Green, Leatherback, Hawksbill, Loggerhead, Flatback and Olive Ridley.

Marine turtles migrate long distances between their feeding grounds and nesting sites.


The male sea turtle spends all of their life at sea, the females only come to land to lay eggs. They do this on a sandy beach, and crawl to the top of the sand to dig a hole. They lay about 100 eggs and then cover them with sand.
The temperature of the sand determines the sex of the young turtles. Cooler sand produces male turtles, while warmer sand produces females.
Australia has some of the largest marine turtle nesting areas in the Indo-Pacific region, and has the only nesting populations of the flatback turtle.

Wilson Island and Heron Island are part of the Great Barrier Reef islands, surrounded by pristine reef and beach environments, including rare turtle and bird breeding grounds.
For visitors to the islands it is a very special experience as the turtle hatchlings can be seen making their way to the sea.

Hatchlings are carried out to sea on ocean currents, and can travel thousands of miles around the ocean before they are fully grown. When they reach breeding age, they return to the area where they hatched to lay their own eggs.
They become sexually mature at 30-50 years and can live for up to 100 years.
Marine Turtles have a large shell called a carapace, four strong, paddle-like flippers and like all reptiles, lungs for breathing air. The characteristic beak-like mouth is used to shear or crush food.
The Leatherback is the largest sea turtle. The heaviest Leatherback turtle ever measured weighed 916kg.
Edit This Page
Edit Page Content
Post Comment