Click on Map Icons to View More Info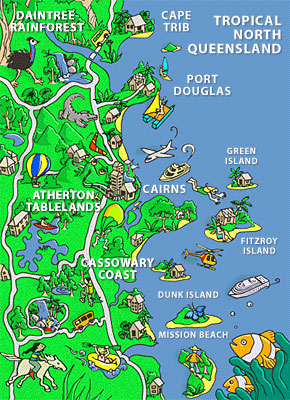 Top 10 Articles
A Whale of an Encounter
About GBRMPA
Advanced Diving
Bedarra Island
Butterfly Fish
Can I fly after diving?
Can I wear glasses?
Certified Diving
Clown Fish
Cod Hole
Great Barrier Reef Region Guide
Click Images to view gallery for this subject

CLOWNFISH

CLOWNFISH & ANEMOME LIVE IN MUTUAL RELATIONSHIP

PHOTO COURTESY OF BRETT GOODBAN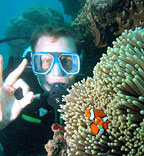 IN SEARCH OF NEMO!
Clown Fish
Updated: 03-Mar-2014

Did you know that clown fish are one of the only fish that can live in sea anemones without being stung by the tentacles of the anemone?


Clown fish live in a mutual relationship with sea anemones.

The anemone protects the clown fish because reef life is dangerous for small, brightly coloured fish with very poor swimming abilities. The anemone's tentacles kill other fish that touch them, but the clown fish seems to be immune to its poison.

The anemone protects the clown fish from most predators, who know not to go near the anemone's tentacles.

Clown fish and damsel fish are the only species of fish which can avoid the potent stings of an anemone. For this reason, clown fish never stray far from their host.

In turn clown fish help to protect the anemone by chasing away polyp-eating fish such as the butterfly fish. The colorful fish also clean the anemone by eating the algae and food leftovers on the anemone. This is known as a symbiotic (or living together) association.

Clown fish live in their anemone in groups. Usually a female lives with other males. When the female dies the head male changes sex and becomes the female.

The movie 'Finding Nemo' created quite a demand for home aquariums. The bad news is that the clown fish require anemone and not all anemone are suited for home aquariums.

It is best that Nemo and his friends remain in their natural habitat, where they belong.
Edit This Page
Edit Page Content
Post Comment