Click on Map Icons to View More Info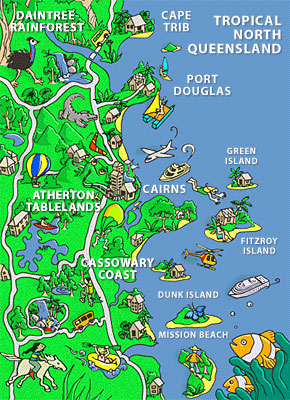 Top 10 Articles
A Whale of an Encounter
About GBRMPA
Advanced Diving
Bedarra Island
Butterfly Fish
Can I fly after diving?
Can I wear glasses?
Certified Diving
Clown Fish
Cod Hole
Great Barrier Reef Region Guide
Click Images to view gallery for this subject
Lionfish
Updated: 21-Mar-2007

Nothing embodies both the beauty and danger of the oceans more than lionfish.

Not only are they astonishingly beautiful with their gracefully flowing fins, dramatic colorations, cautious movements, and fish-gulping mouths, but they're equipped with venomous spines capable of delivering painful stings.
The lion-fish belongs to the Scorpion fish family.

This brightly coloured fish is usually found in coral reefs, especially in shallow waters hovering in caves or near crevices.

Lion-fish have venomous fin spines that can produce painful puncture wounds. Fatalities, however, are rare.
They are notable for their extremely long and separated spines, and have a generally striped zebra appearance, red, brown, or black on white.

Photos courtesy of Brett Goodban
Edit This Page
Edit Page Content
Post Comment