Home >
Do I need a Dive Medical?
Click on Map Icons to View More Info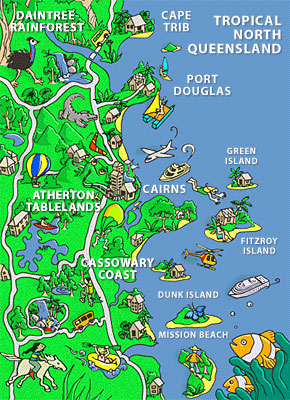 Top 10 Articles
A Whale of an Encounter
About GBRMPA
Advanced Diving
Bedarra Island
Butterfly Fish
Can I fly after diving?
Can I wear glasses?
Certified Diving
Clown Fish
Cod Hole
Great Barrier Reef Region Guide
Click Images to view gallery for this subject

SOME RISKS INVOLVED IN SCUBA DIVING

QUEENSLAND MAINTAINS STRICTEST STANDARDS

ASSESS FITNESS

ASTHMA INCREASES RISK

SNORKELLING CAN BE A STRENUOUS ACTIVITY
Do I need a Dive Medical?
Updated: 08-Mar-2007
Scuba diving does involve some risk and some medical conditions can make the risks much higher. As a result, the regulations, requirements and medical standards relating to diving in Australia are amongst the strictest in the world, in order to ensure that Australia continues to be one of the safest places to dive in the world.
All divers are asked to complete a medical questionnaire. If the answers to all questions are NO then a medical is not required. If there is an answer YES to any question, a further medical may be required. You will also be asked to fill out a general disclaimer - differs from company to company.

The requirement for a Dive Medical is ultimately for your own safety.
Australian Standard AS4005.1 Compliance
The Australian Dive Medical assesses the fitness and suitability of prospective scuba divers and ensures that the medical standards for diver fitness meet the standards of Australian Standards AS 4005.1 for recreational divers.
The Dive Medical focuses principally on cardiac, pulmonary and neurological conditions, and general health issues, that may put a diver at increased risk.
The most common condition that will cause people to be declared medically unfit to dive is asthma. Studies have shown that asthma increases the risk of death during diving by 10-20 times. In Australia, it is standard practice to exclude asthmatics from diving even though some people may wish to voluntarily take this risk.
Snorkelling does not require a Medical Questionnaire or a Dive Medical in Australia, but it can be a strenuous physical activity that may increase the health and safety risks for persons suffering from any medical condition that may be made worse by physical exertion (such as heart disease, asthma and lung disease), any medical condition that can result in loss of consciousness (such as epilepsy or diabetes), or having a low level of personal fitness due to age or physical condition.
You may be required to sign a disclaimer by the dive operator if you elect to snorkel with a known and/or contra-indicated medical condition, or are taking medication.
For Dive Medicals contact:
The Cairns 24 Hour Medical Centre, Cnr Grafton & Florence Streets, Phone 07 4052 1119
Edit This Page
Edit Page Content
Post Comment