Click on Map Icons to View More Info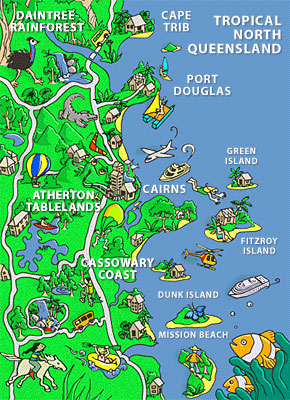 Top 10 Articles
A Whale of an Encounter
About GBRMPA
Advanced Diving
Bedarra Island
Butterfly Fish
Can I fly after diving?
Can I wear glasses?
Certified Diving
Clown Fish
Cod Hole
Great Barrier Reef Region Guide
Click Images to view gallery for this subject
Cod Hole
Updated: 15-Feb-2007
The Cod Hole is an Internationally Famous Dive destination offering very exciting year round diving.
Located at the top of the Ribbon Reefs 200km north of Cairns, the Cod Hole is renowned for its huge, but friendly, Potato Cod (Groper).
These diver friendly fish will amaze you with their sheer size and seeming eagerness to pose for camera.

They are inquisitive by nature and very popular with divers.

The reef here is composed of a lot of small coral outcrops with some nice gorgonias. The wall slopes up fairly gently to the main reef top.
Look out for sharks, barracudas and pelagics.
The Cod Hole is a fantastic dive site, one of the best you will do anywhere in the World. Visibility is generally in excess of 40 metres and water temperature ranging from 24 to 29 degrees.
Edit This Page
Edit Page Content
Post Comment