Click on Map Icons to View More Info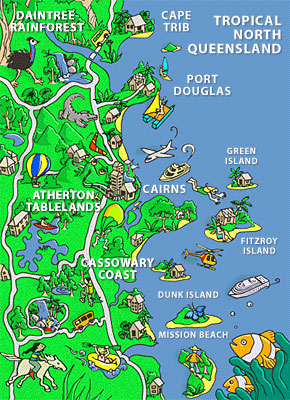 Top 10 Articles
A Whale of an Encounter
About GBRMPA
Advanced Diving
Bedarra Island
Butterfly Fish
Can I fly after diving?
Can I wear glasses?
Certified Diving
Clown Fish
Cod Hole
Great Barrier Reef Region Guide
Click Images to view gallery for this subject
Coral Sea
Updated: 15-Feb-2007
"Experienced Diver Heaven"

Hop onboard your vessel and get ready for a long steam crossing open ocean (usually at night).

If you arrive to perfect conditions the Coral Sea can offer 1000metre (3000ft) vertical walls with 40metre (120+ft) visibility. Here you can spot sharks including Grey Whalers, White Tips, Silver Tip Whalers, and circling scalloped hammerheads in July.
Schools of Barracuda and large Dogtooth tuna are also always nearby. Night divers may expect to see rare Flashlight Fish as they swim in and out of crevasses.
The Coral Sea is not for the faint hearted and not for those who may be prone to seasickness. The dives are usually deep and can quite often have roaring currents.

Trips are usually 5 days in length and incorporate the Ribbon reefs as well. Best months for the Coral Sea are late September through to December.
Dive Localities:
Bougainville Reef, Holmes Reef, Osprey Reef

Information Courtesy
of DiveGBR
Edit This Page
Edit Page Content
Post Comment