Home >
Far Northern Reefs
Click on Map Icons to View More Info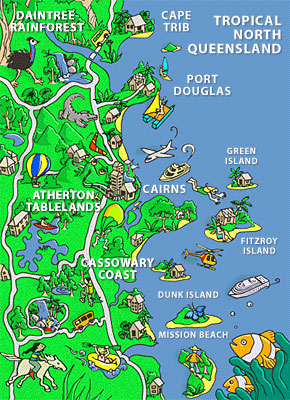 Top 10 Articles
A Whale of an Encounter
About GBRMPA
Advanced Diving
Bedarra Island
Butterfly Fish
Can I fly after diving?
Can I wear glasses?
Certified Diving
Clown Fish
Cod Hole
Great Barrier Reef Region Guide
Click Images to view gallery for this subject
Far Northern Reefs
Updated: 15-Feb-2007
The Far Northern Reefs take in the Ribbon Reef system, a series of reefs stretching out like a long multi-coloured ribbon to the north to reach the famous Cod Hole, where a large family of Potato Cod live, as well as huge schools of fish and Maori Wrasse who all compete for a free fish dinner.
The Ribbon Reefs themselves offer stunning dive sites that have an extremely varied amount of coral and marine life on them. These range from giant clams up to 2 metres across, with beautiful hard corals and coral associated fish.

Join the Big Eye Trevally and Barracuda as they school around, watch Mackerel hunt juvenile Fusiliers gathered in schools against a magnificent backdrop of plate corals.

Blend with the Baitfish and search out the Rays as you drift along the walls. Towering Pinnacles covered with beautiful corals and clouds of aquarium fish. Look out on these reefs, as a highlight would always be spotting the graceful Manta Rays.

Night dives feature sleeping green turtles and a variety of sleeping reef fish. Experienced divers expect wall diving, drift diving and the chance to photograph some of the most spectacular sights imaginable.
A trip to these reefs are usually around 4 to 5 days in length, with a 7-day trip available too. Some trips include a low level flight one way so less time is spent steaming and more time under the water.
Dive Locations:
Ashmore Reef, Cobia Hole, Cod Hole, Detatched Reef, No Name Reef, Ribbon Reef #3, Ribbon Reef #9, Ribbon Reef #10, Snake Pit
Information Courtesy
of GBR Dive
Edit This Page
Edit Page Content
Post Comment