Click on Map Icons to View More Info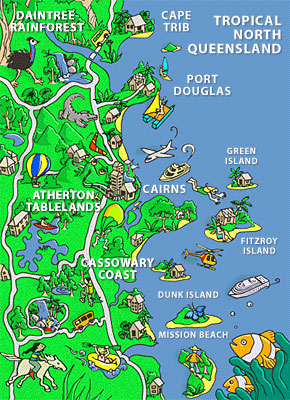 Top 10 Articles
A Whale of an Encounter
About GBRMPA
Advanced Diving
Bedarra Island
Butterfly Fish
Can I fly after diving?
Can I wear glasses?
Certified Diving
Clown Fish
Cod Hole
Great Barrier Reef Region Guide
Click Images to view gallery for this subject
When to Visit?
Updated: 30-May-2007

There is no "bad" time of year to visit the Great Barrier Reef. Queensland's warm waters are ideal for year-round diving with temperatures ranging from 24 – 29 degrees. Local divers say the best time is October, November and December, when the weather is most consistent in terms of ocean swell, sunny skies, and underwater visibility with water temperatures
Summer (Wet Season): January – April
January through to April is usually the wettest time of the year and can be accompanied by tropical thunderstorms and possibly a tropical cyclone. The air and water temperatures are at their highest as is the humidity during these months. It is recommended to wear a stinger suit or wetsuit during this time as stingers can be found at the reef.
Water Temp: 29°C/84°F
Autumn: April - June
Still beautiful and warm, but generally less rain this time of year. The water temperature starts to drop and the evenings begin to cool down (relatively) - 20°C/70°F average minimum temperature. This is a great opportunity to see juvenile fish around this time of year.
Water Temp: 26°C/78°F
Winter: June - August
Probably the most pleasant weather, with low humidity, clear skies and very little rain through these months, however the wind tends to pick up. The water temperature is at its coolest point this time of year (around the 24°C/75°F) mark. This is also the most likely time to see Minke and Humpback whales migrating.
Water Temp: 24°C/75°F
Spring: September - November
During this period, everything starts to warm up. By the end of November you will be experiencing more humid weather. The best place to be is on the water, spending balmy evenings on the Great Barrier Reef, watching the sunset. It is also during this period that we experience Coral Spawning.
Water Temp: 27°C/80°F
Marine Calender:
June- July: Minke Whales
July - Sept: Humpback Whales
Oct/Nov:
Edit This Page
Edit Page Content
Post Comment