Click on Map Icons to View More Info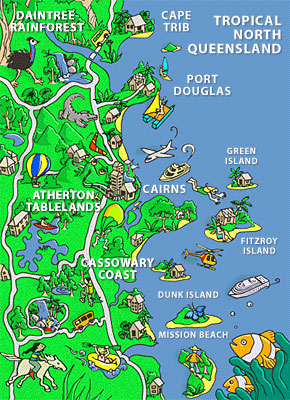 Top 10 Articles
A Whale of an Encounter
About GBRMPA
Advanced Diving
Bedarra Island
Butterfly Fish
Can I fly after diving?
Can I wear glasses?
Certified Diving
Clown Fish
Cod Hole
Great Barrier Reef Region Guide
Click Images to view gallery for this subject
Scuba Diving
Updated: 15-Feb-2007

Cairns is the scuba diving capital of Queensland, why?...

Because it is the closest departure point to the Great Barrier Reef.

Whether a novice to scuba diving or highly experienced, or somewhere in between the Great Barrier Reef has something to offer everyone.
Most day trips offer the option to take up to 3 dives at two different locations.

The Great Barrier Reef offers a range of dive types including Drift, Wall, Pinnacle, Ledge and swim throughs.
Outer reef sites are selected on the day according to tidal and weather conditions, so divers can get the best experience on the day. With numerous reef locations available, each site offers a new experience.
Water temperatures range from 22 to 28 degrees celsius, allowing comfortable diving all year round.
Edit This Page
Edit Page Content
Post Comment