Click on Map Icons to View More Info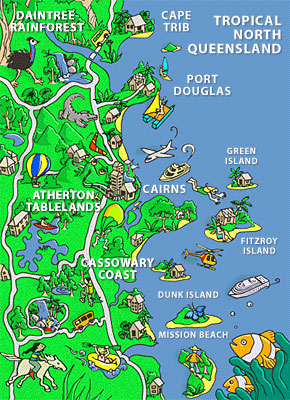 Top 10 Articles
A Whale of an Encounter
About GBRMPA
Advanced Diving
Bedarra Island
Butterfly Fish
Can I fly after diving?
Can I wear glasses?
Certified Diving
Clown Fish
Cod Hole
Great Barrier Reef Region Guide
Click Images to view gallery for this subject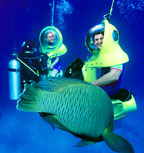 UNDERWATER SCOOTER

NO EXPERIENCE REQUIRED

RIDE AMONGST THE UNDERWATER WORLD

GUIDED BY AN INSTRUCTOR

180 DEGREE VISIBILITY
Scuba Doo
Updated: 04-Feb-2013
Great Adventures' pontoon on the Great Barrier Reef is the only place in Australia where you can cruise the reef on your own underwater scooter!
No experience is necessary and non-swimmers welcome.
It's great fun and your professional guide will take you on an underwater journey to remember.
Scuba-Dooing means you don't need to wear a mask or mouthpiece. The air tank and diving weights are on the Scuba-Doo motorised scuba bike.
You are seated on your Scuba-Doo, with your head and shoulders in a clear dome. Your air is constantly being replenished from a scuba tank, enabling you to breathe normally!
Manouverable? You bet! At a rate of 2.5 knots you're able to ride amongst the spectacular underwater world, or remain stationary while you feed the fish. What's more, on the Scuba-Doo scuba bike you can wear your spectacles or contact lenses with no problems!
You don't need to be a strong swimmer, in fact the Scuba-Doo scuba bike is even safe for people with minor disabilities.

The advantages over normal scuba equipment are:
No mask
No mouth piece
No heavy weights and tanks
No special clothes or equipment
Shorter instructional time
You do not need to be a strong swimmer as the Scuba-Doo is self propelled
Glasses and contact lens can be worn as your head and shoulders are not in the water
Visability is 180 degrees through a clear perspex dome giving a clear panoramic view of the coral and spectacular marine life.
Age and medical conditions apply
Great Adventures Great Barrier Reef tour departs Cairns daily.


Edit This Page
Edit Page Content
Post Comment