Click on Map Icons to View More Info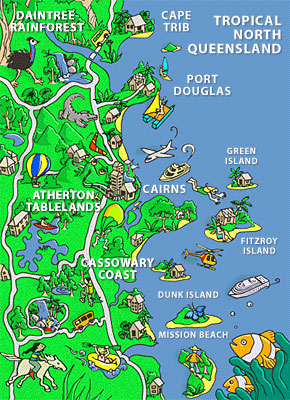 Top 10 Articles
A Whale of an Encounter
About GBRMPA
Advanced Diving
Bedarra Island
Butterfly Fish
Can I fly after diving?
Can I wear glasses?
Certified Diving
Clown Fish
Cod Hole
Great Barrier Reef Region Guide
Click Images to view gallery for this subject
About GBRMPA
Updated: 22-May-2012
The Great Barrier Reef Marine Park Authority is located in Townsville, Queensland, Australia and is the principal adviser to the Commonwealth Government on the care and development of the Great Barrier Reef Marine Park.
The Authority undertakes a variety of activities including:
Developing and implementing zoning and management plans
Environmental impact assessment and permitting of use
Research, monitoring and interpreting data
Providing information, educational services and marine environmental management advice
The Tourism and Recreation Group provides policy advice on the management of tourism and recreation in the Great Barrier Reef Marine Park. They are committed to working in partnership with the tourism industry to ensure a healthy, well protected Reef.
Recreational use of the Marine Park is concentrated around major regional centres along the Queensland coast.

Activities include:
Fishing
Diving and snorkeling
Yachting and boating
Motorised water sports
Sea kayaking and windsurfing
Photography
Shell collecting
Scuba diving and snorkelling are the most popular ways to experience the unique and beautiful underwater world of the Great Barrier Reef. Whilst deliberate damage to the reef is rare, accidental damage can occur. There are several ways that snorkellers and divers can avoid accidental damage:
All divers and snorkellers should be aware that it is a legal offence in the Marine Park to damage or remove coral.

Check you are weighted correctly before diving and practice buoyancy control away from coral and reef animals.

Practice snorkelling techniques away from coral and dive over sand until you have mastered buoyancy control.

Secure dragging diving equipment such as secondary regulators and gauges.

Do not rest or stand on coral.

Avoid hovering over or leaning on corals when taking underwater photographs.

If you need to rest while snorkelling, try to use rest stations where provided.

Avoid touching anything with your fins and try not to stir up sediment or disturb coral.

Observe animals rather than handle them. Handling some animals may be dangerous.

Do not chase or attempt to ride or grab free-swimming animals. Avoid blocking their path.

Do not touch, poke or prod any plants or animals.

If you pick up anything underwater, living or dead, return it to the exact position where you found it.

Learn about the underwater environment so that you can better appreciate it.

Edit This Page
Edit Page Content
Post Comment