Home >
What if its raining?
Click on Map Icons to View More Info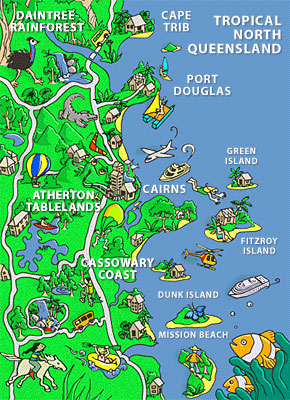 Top 10 Articles
A Whale of an Encounter
About GBRMPA
Advanced Diving
Bedarra Island
Butterfly Fish
Can I fly after diving?
Can I wear glasses?
Certified Diving
Clown Fish
Cod Hole
Great Barrier Reef Region Guide
Click Images to view gallery for this subject
What if its raining?
Updated: 31-May-2012

Do trips still operate if it is raining?
The rain in Cairns is generally drawn to the mountain areas, and as our reef is 40 km's off shore, the clouds tend to stay away. If you wake up in the morning in Cairns and it is raining...don't panic! It will usually be fine out at the reef.

There are some days where it can rain all day long in Cairns and be beautifully fine out at the reef. The marinelife is still there come rain or shine and your going to get wet anyway so what does it matter?!

What happens if the weather is severe?
On very rare occasions all cruise services can be subject to the effect of weather or unforeseen circumstances. Should a cruise not operate for any reason, in most cases passengers will be offered an alternative day or a refund authorised, subject to the tour operators discretion.
Edit This Page
Edit Page Content
Post Comment