Home >
Reef HQ Townsville
Click on Map Icons to View More Info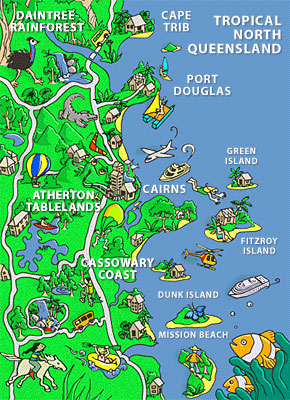 Top 10 Articles
A Whale of an Encounter
About GBRMPA
Advanced Diving
Bedarra Island
Butterfly Fish
Can I fly after diving?
Can I wear glasses?
Certified Diving
Clown Fish
Cod Hole
Great Barrier Reef Region Guide
Click Images to view gallery for this subject
Reef HQ Townsville
Updated: 02-Mar-2007
Experience the wonders of the Great Barrier Reef at the world's largest living coral reef aquarium.
Reef HQ, the world's largest living coral reef aquarium, is not only a uniquely North Queensland attraction, it is the education centre for the Great Barrier Reef and a 'must see' for both locals and visitors to the region.
Each exhibit is like looking through a window to the many wonders of the Great Barrier Reef. The main attraction, the Underwater Discovery Tunnel, bisects a 750,000 litre Predator Exhibit and a 2.5 million litre Coral Reef Exhibit where visitors have a fish-eye-view of the coral ecosystem.
The Predator Tank, with its replica of the infamous SS Yongala as a backdrop, is a perfect way to view the array of sharks and other predatory fish particularly on the days when the Shark Feeding Show stimulates a frenzy of activity among the hungry residents.
With its hard and soft corals, the Coral Reef Exhibit provides a home for the thousands of beautiful fish, giant clams, sea cucumbers, sea stars and other coral reef creatures. The living coral is maintained in an environment so similar to the natural conditions to be found on the reef that it even spawns at the same time as its larger, natural counterpart.
With impressive displays, thousands of marine animals and a full daily programme of talks and tours, Reef HQ is designed to stimulate curiosity so that you leave in awe of the Great Barrier Reef and eager to discover more.

Opening Hours:
Reef HQ is open from 9.30am to 5pm, 7 days a week, every day of the year except Christmas Day.

Location:
Located in Flinders Street East adjacent to the Museum of Tropical Queensland, Reef HQ is at the centre of Townsville's entertainment precinct. Car parking is available opposite Reef HQ and coach parking is available directly in front of the complex.

Admission Cost:
Adult $21.50
Concession (student/pensioner) $16.50
Child (5-16 years) $10.50
Edit This Page
Edit Page Content
Post Comment