Home >
What if I can't swim?
Click on Map Icons to View More Info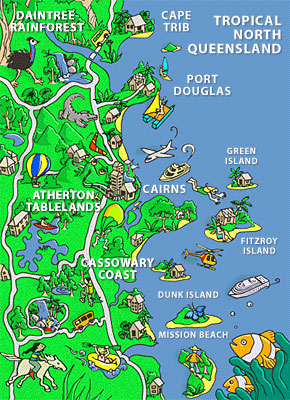 Top 10 Articles
A Whale of an Encounter
About GBRMPA
Advanced Diving
Bedarra Island
Butterfly Fish
Can I fly after diving?
Can I wear glasses?
Certified Diving
Clown Fish
Cod Hole
Great Barrier Reef Region Guide
Click Images to view gallery for this subject
What if I can't swim?
Updated: 23-Apr-2008
Non swimmers have the same opportunity to experience the reef as swimmers.

Most people visiting the reef are snorkeling for the very first time.

You do not need to be an active swimmer to be able to snorkel but of course it is an advantage. In fact one thing you quickly learn is that doing things with the minimum expenditure of energy is what snorkelling is all about. You can just float on the surface and view a whole new world below.

Most reef operators have a large range of snorkel vests and buoyancy aids available for you to use, and some feature snorkel stations near the boat for you to hold on to while you build up your confidence.

Usually a crew member will also hop in the water to conduct snorkel tours and ensure everyone is comfortable.
Edit This Page
Edit Page Content
Post Comment