Home >
Daintree Reef Tours
Click on Map Icons to View More Info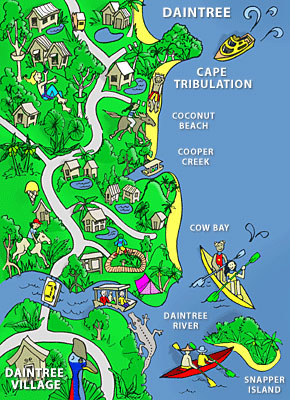 Top 10 Articles
A Whale of an Encounter
About GBRMPA
Advanced Diving
Bedarra Island
Butterfly Fish
Can I fly after diving?
Can I wear glasses?
Certified Diving
Clown Fish
Cod Hole
Great Barrier Reef Region Guide
Click Images to view gallery for this subject

ODYsSeY H20 REEF TRIP

SANDY CAY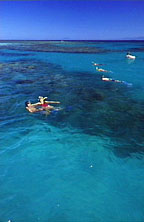 SNORKELLING ON THE REEF

UNDINE CAY

CORAL REEF
CAPE TRIB IS ONLY 19 KILOMETRES FROM THE GREAT BARRIER REEF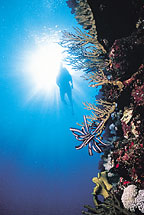 SCUBA DIVING AVAILABLE ON BOTH DAY TRIPS

INTRODUCTORY DIVING
Daintree Reef Tours
Updated: 07-Mar-2013
The Great Barrier Reef stretches more than 2000 kilometres offshore from Queensland, however it is only at Cape Tribulation where the reef comes right to the shore and meets the tropical rainforests of the Wet Tropics. It is the only place in the world where two World Heritage areas exist side-by-side.
The combination of a continental tropical rainforest and fringing coral reef is rare and unusual, as it would be expected that high levels of freshwater run-off from the forests would be detrimental to reef development, yet the reef exists and appears to be unique in the world.
These pristine reef systems are glorious in their colours and diversity. Unchanged by human interference, they shelter a myriad of fishes, anemones, corals and sea-ferns.
It is an ideal opportunity to visit the reef during your stay in the Daintree Cape Trib area, as the reef is so close. You will get to spend a larger part of the day diving and snorkelling, than if you visited the reef from Port Douglas or Cairns. The reef lies only 45 minutes offshore from the mainland, so you can maximise your day with plenty of diving and snorkelling.
The advantages of snorkelling and diving from Cape Tribulation are:
Two World Heritage Areas - Cape Tribulation is where the Daintree National Park meets the Great Barrier Reef Marine Park.
There are only two licensed day boat operations from Cape Tribulation, in comparison to the numerous operators running from Cairns and Port Douglas.
View the undisturbed coastline of Cape Tribulation.
The reefs are not as subject to the agricultural run-off and visitor volume of other reefs further south.
The reefs accessible from Cape Tribulation are only 19km away compared with far greater distances for reef operators from Cairns.
Water visibilty averages 15-25 metres (50-80ft), with water temperatures 21-31 degrees celcius (70-80 fahrenheit).
With over 1000 islands which are easily accessible from North Queensland and coastal cities like Cairns and Port Douglas. The coral islands are very popular tourist attractions. Some even have varied vegetation including rainforest and are encircled by the coral reefs.
Edit This Page
Edit Page Content
Post Comment