Accommodation Specials!





Fitzroy Island Resort is fringed with pretty coral gardens in clear ocean and a hiking trail up to the lighthouse. Enjoy the many activities the island has to offer such as Sea Kayaking and snorkelling
4 NIGHTS FITZROY ISLAND
* RESORT STUDIO
* OUTER REEF TRIP
* SEMI-SUBMARINE
* GLASS BOTTOM BOAT
* RETURN FERRY EX. CAIRNS


GREAT BARRIER REEF
SAVE $340

*Resort Studio twin share
Stay between now and 31/March/2019
Great Barrier Reef Australia
The Great Barrier Reef is a must see while in North Queensland.

Stay at one of the Island Resorts or try snorkeling or diving on one of the many Reef Trips that depart Cairns & Port Douglas daily.
The Great Barrier Reef is also home to some of the best Dive Expeditions in the world.
Call our local team for advice on your Great Barrier Reef Holiday:
Cairns Office : 07 4040 2100, +61 7 4040 2100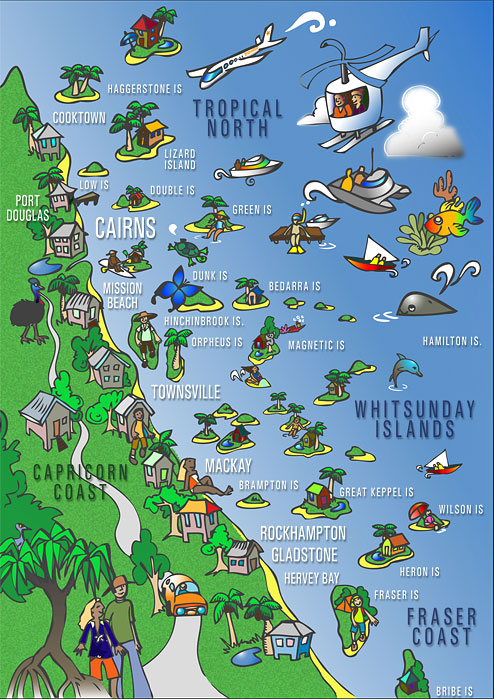 About Great Barrier Reef
Welcome to the Great Barrier Reef!
Stretching off the Queensland Coast from Lady Elliot Island in the south all the way up to Papua New Guinea in the north, the Great Barrier Reef by far is one of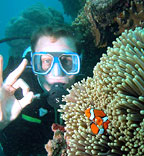 Australia's most remarkable gifts.Comprising of around 2,900 individual reefs, scattered with beautiful islands and idyllic coral cays, the Great Barrier Reef is a must-do on any holiday itinerary. With an abundance of experiences from the hardest part will be fitting it all into your itinerary! From spectacular scuba diving to remarkable scenic helicopter flights, island resorts to luxurious sailing, laid back cruising and sea kayaking adventures; the Great Barrier Reef is an adventure playground just waiting to be explored.

Getting There:
The Great Barrier Reef is very accessible with regular departures from the mainland coastal areas of Cape Tribulation, Port Douglas, Cairns, Townsville, Airlie Beach (Shute Harbour), Mackay, Gladstone, and 1770 (from north to south).

Cairns is the closest major gateway to the Great Barrier Reef with a huge array of trips and activities departing daily. The Reef Fleet Terminal situated between the Pier Shopping Centre and Cairns Harbour Lights provides a convenient hub for travellers to check in for their chosen reef activity.
Airlie Beach is the major gateway for accessing the Whitsunday Islands. Domestic air services fly into Proserpine airport or directly to Hamilton Island.
Gladstone services departures to Heron and Wilson Islands, and access to Brampton Island is via departures from Mackay.

Great Barrier Reef Islands:
Stretching from Tropical North Queensland in the north to Central Queensland in the south, there are literally hundreds of islands dotted along the Great Barrier Reef. With a small handful of resorts offering a complete tropical island experience, there's really no better place to escape to for an idyllic and exotic holiday destination.

Lizard
Beautiful, natural and wild and the most northern Great Barrier Reef resort, Lizard

Island is a place reserved for the fortunate few. With 24 powdery-white beaches, 40 luxurious suites, five star cuisine, indulging spa treatments and sensational scuba diving on the Great Barrier Reef, it's little wonder that this beautiful island consistently makes the Top 10 Hotels of the World list. Enjoy secluded picnics on private beaches, explore the ruggedness of the island on a nature trail or simply relax in your luxurious suite. Lizard Island is an ideal couples getaway, accessed by air from Cairns Airport in Far North Queensland.
Green Island
Green Island is a beautiful coral cay situated on the Great Barrier Reef, just 27km

(approx a 45 minute boat ride) from Cairns. This ancient coral cay is home to over 120 species of native plants, colourful bird and marine life and beautiful coral gardens to explore. By day Green Island is a popular day visitor destination with guests from around the world experiencing the unique island rainforest, sandy white beaches, magnificent coral reefs and abundant marine life. By night, enjoy the pure serenity of your own tropical island; with just 46 luxurious suites nestled amid lush rainforest and secluded from the day visitor facilities, you will feel a world away...

Fitzroy Island
Fitzroy Island is a continental island surrounded by fringing reef, which is the home

to a variety of tropical fish and coral life. One of the most unspoiled islands on the Great Barrier Reef, the majority of Fitzroy Island is a National Island Park which makes for great walking throughout the whole island, including bush walks to the Lighthouse, the Summit, to the Secret Garden and to Nudey Beach. Guest facilities at Fitzroy Island Resort include a restaurant, a swimming pool and spa, swim-up pool bar, conference rooms, function rooms, a cinema, kids' games room and kids' play room. Day Visitors to the island are welcome and well catered for. A council campground is located, next to the beach, only 5 minutes stroll from the Jetty. Fitzroy Island Resort is accessible via a 60 minute ferry ride (about 30kms) from Cairns in North Queensland.
Orpheus Island
Orpheus Island is located just a 25 minute scenic flight from Townsville.

This tranquil island stretches across 11 kilometres of immaculate coastline, and comprises of a pristine National Park and surrounding World Heritage listed Marine Park. The fringing reef of this Great Barrier Reef Resort is one of the most spectacular and diverse. Accommodation is exclusively available to just 34 guests at any one time; this luxury resort offers absolute seclusion and serenity. Orpheus Island is perfect as a holiday destination, a picturesque wedding setting, or booked in its entirety for exclusive use.
The Whitsundays
The Whitsunday Islands are located in the centre of the Great Barrier Reef, stretching off the coast of Townsville along to Mackay.

They form the largest offshore island chain on the Great Barrier Reef, comprising of 74 beautiful islands of which just eight of them are inhabited by 9 island resorts. Airlie Beach is the mainland gateway to the Whitsundays, direct flights are also available into Hamilton Island, the largest inhabited island in the Whitsundays chain. The Whitsundays is the place to be for rich experiences, adventure, discovery and more; whether its eco-style, family friendly, all-inclusive, activity based, food & wine focused or pure luxury you are after, there is a Whitsunday Island experience to suit all.
Heron Island
If you're a nature lover, Heron Island really is a special place. Located 89kms off the coast north east of Gladstone, this natural coral cay is situated on the Great Barrier Reef, which means you can snorkel right off the beach. With a myriad of colourful coral and reef fish at your fingertips, it's no wonder that Heron Island is a popular choice for divers, swimmers, and people who love to snorkel.

The resort also offers an array of choices for those who like to explore and laze on beaches far from crowds. Being an exclusive island for guests only (no day-trippers here) and, with television-free rooms and no mobile phone reception, it's ideally positioned to take you "back to nature". Turtles return here year after year to lay their eggs and guests can gather just outside their rooms to watch the hatchlings make their way to the water. The resort caters to both couples and families and has approximately 100 comfortable rooms, all with ceiling fans and either balconies or terraces.
Tours & Activities:
Day trips to the reef run from most of the length of the Queensland Coast.
Reef Tours
Reef Tours depart daily from Cairns, Port Douglas and the Whitsundays area.

Snorkelling the Great Barrier Reef is one of the best and most popular ways to truly appreciate the beauty this natural wonder.It's ideal for people of practically all age groups and is perfect as a family activity or with friends. Most marine activity takes place in the top four metres of the ocean, so you will be able to view just as much marine life from above as the divers do below; just looking from a different perspective. Outer reef pontoon trips operate offshore from Cairns, Port Douglas and the Whitsundays. They allow large numbers of passengers to experience the reef from a safe and spacious platform. Floating reef pontoons are designed to provide the best experience for both swimmers and non-swimmers. Some of the inclusions on the pontoon are:- undercover seating, change rooms and showers, underwater coral viewing observatory, semi-submersible rides, glass bottom boat tours, marine touch tank, snorkel platform, kids enclosed swim area, an introductory dive platform, sunbaking deck and the list goes on…..
Scenic Flights
To really appreciate the size and natural beauty of the Great Barrier Reef, you must see it from the air.

Astronauts are amazed at what they see from outer space when they look down on the worlds largest living structure, you will be amazed too! From altitude the colours of the Great Barrier Reef are superb, not to mention the marine life. Dugong, Manta Rays, large Green Turtles and at certain times of the year huge Hump Back Whales make taking a scenic flight a very special and memorable experience.
Dive Expeditions
Hundreds of kilometres beyond the Great Barrier Reef, Australia's Coral Sea harbours the undersea remnants of ancient volcanoes. Here, the diver is presented with sheer walls laced with massive soft corals and gorgonian fans, that plummet 1000 metres to the ocean floor.

These isolated reefs, including Osprey and Bougainville Reefs are home territory for huge schools of pelagic fish, manta rays and sharks, and are renown for their crystal clear waters. For serious divers, this is the ultimate dive adventure. Diving the remote regions of the Ribbon Reefs and Coral Sea requires you to join a live-aboard dive expedition. This is the best way to experience the highest quality range of diving sites on offer. Trips can last from three to 7 days and many operate out of Cairns or Port Douglas, and include low level scenic flight transfers.
Learn to Dive
If you have always wished to have experienced first hand the beauty of the

underwater world and come face to face with schools of tropical fish, then an open water certification course is your passport to an exciting new world of adventure, and there is no better place to learn to dive than Australia's Great Barrier Reef. In as little as four days you can become a Certified Open Water Diver. The course will teach you the necessary skills and safety to be able to dive confidently anywhere in the world. The adventure of learning to dive as well as staying out on the Great Barrier Reef on a liveaboard dive vessel is a unique experience and one that is truly memorable.

Sailing
A day out sailing or even an extended sail trip is the perfect way to unwind and rejuvenate.

There's nothing better than to be onboard a sailing vessel when the engines are 'cut' and the sails are unfurled and to experience the sensation of gliding through the water under sail. The Whitsundays is a sailing mecca, with richly varied and infinitely beautiful islands as the backdrop, and the calm, protected, warm waters of the Coral Sea. Choose from a variety of overnight trip options such as adventure sailing, eco tallship sailing, outer reef adventures, luxury sailing or even take the helm and sail yourself on a bareboat charter. There are also many day trip sailing options to choose from that depart Cairns and visit the inner lying islands and reefs. Enjoy a sail to a deserted island beach for a spot of snorkelling, fishing, island exploring and sunbaking, or just laze on the deck with a good book. All food and equipment (snorkelling gear, fishing gear, linen, etc) is provided. There's no work, so just relax and watch the world float by.
Fishing
Fishing is one of the most popular Great Barrier Reef activities with Reef/Bottom

Fishing being the most common style. This means that the boat anchors and passengers fish with either hand lines or rod and reel to catch top quality table fish found on the Great Barrier Reef. The Great Barrier Reef offers many exciting and different fishing opportunities depending on the season and conditions. Group charters are most popular.

Top 10 Activities:
View the reef from a different perspective on a scenic heli flight
Dive or snorkel the reef
Escape to an island getaway
Sea kayak the fringing reef
Learn to Dive
Go whale watching
Catch your dinner on a fishing charter
Take a delightful sunset sail
Cruise the reef on a Scuba Doo - your own underwater scooter!
Walk on the pristine silica sands of Whitehaven Beach
Weather & Climate
The Great Barrier Reef has a tropical climate; warm summers with higher levels of rainfall and mild winters with minimal rainfall are what you can expect in this

subtropical destination. Average temperatures in summer are between 24 and 33 degrees Celsius, in winter 14 to 26 degrees. The water is warm enough to swim in all year round, though do keep in mind that box jellyfish inhabit the coastal waters from October to May. The region averages over 300 days of sunshine per year, so please remember to pack, and use, sun protection items such as sunblock, hat and sunglasses. In this period look for netted areas on the beaches to swim in, or ask a local about the conditions.

Marinelife
The Great Barrier Reef is internationally recognised for its great diversity of species and habitats.

It is home to more than 1,500 species of fish, 411 types of hard coral, one-third of the world's soft corals, 134 species of sharks and rays, six of the world's seven species of threatened marine turtles, and more than 30 species of marine mammals, including the vulnerable dugong. Add to that stunning marine suite as many as 3,000 molluscs and thousands of different sponges, worms and crustaceans, 630 species of echinoderms (starfish and sea urchins) and 215 bird species, of which 22 are seabirds.When you visit the Great Barrier Reef, you can see fish changing colour right in front of your eyes, corals changing colour, fish grooming other fish and loads more of unbelievable little miracles and relationships. During the months from May to September the Humpback Whales journey from the Antartic waters to the Great Barrier Reef, to calve and build up strength over the winter before they return to the Antartic in summer. It is an amazing sight and one not to be missed!
Whats Hot!
Travel Tools
Whats Hot!